This was session that took place in a small one bedroom apartment where the subject wanted to be photographed as a Flamenco dancer. She had a make-up artist and hair stylist to provide the look and the biggest piece, the flower in her hair, as well as two outfits. We moved the couch away from one wall and I put up a backdrop that would go with the colours, but would not overwhelm the image. I used my studio lights in this case, two soft boxes on either side and third light for the background. As this was a small space, I needed the third light to shoot from the kitchen into the living room to make everything work.
As part of the story I also covered getting ready with the hair and make-up which made for some great scenes and captured some memories.
I was working towards capturing a Flamenco look and feel in these series of images. The background reminded me of old painted walls on some Spanish villa. We worked the story, doing dance steps, sitting on a chair, playing a guitar and a second wardrobe.
For the finished product I created a small slide-show as well as digital images.
Classical beauty. The light from the soft boxes creates a series of nice shadows. The roses go well with the flower and the make-up is well done.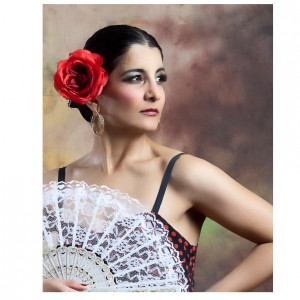 Another view using a fan as a prop. This image looks great as a 16×20 that I printed out and framed.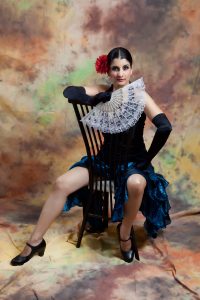 The second of two outfits, we decided to use a chair as in this case to create a different mood.