No matter what, it is my job to make you look the absolute best you can be on your special day.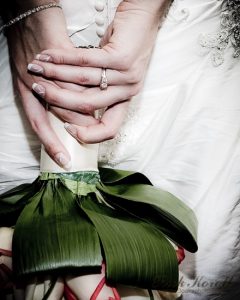 I prefer creative style weddings using candid setups, mixed in with a few traditional series. Because I've talked to people on the day I've captured images using walls, fences, streets, sun roofs on cars, jumping, sitting, getting ready, down the aisle, from behind the minister, long shots from the balcony, in the middle of the road, creative poses, traditional poses, candid, funny, in the middle of winter, on boats and buildings.
I work quickly and efficiently. People have been surprised at how quickly we can get through group set ups with you and family, you and friends and get great looking images. It's not rocket science, it's just experience and knowing what to do. That leaves more time for you to mingle and enjoy yourself. After all, you didn't throw a party to spend all your important time with me.
I use the best high quality trade-only albums and trade-only printing houses for you to create your own package and price range. I offer prints and albums; digital images are provided with items ordered so you can post to your social network. The reasoning? Albums and prints don't need electricity to view, don't erase by accident and technology changes so fast today that tomorrow is already too late. Besides, most people I know who have wanted "just digital images" never get around to doing anything with them. Let me do the work and I'll get the albums and prints done for you. Remember, after the fun, printed images are the only thing you will have left after your memory fades and your digital images get lost. Prints and Albums vary from small condo tabletop books to mega-mansion size canvas prints.
Typical wedding service includes a consultation, Church/Venue visit as well as the Wedding Day's activities such as you getting ready, arrival at the Church/Venue, walking down the aisle, ceremony and family images. I like to take candid images of everyone possible, your parents, new parents, friends, relatives that have traveled from afar, next door neighbours, Groom's Men, Bride's Maids, Bride of Honour, as well as any creative images of opportunity available.
Additional services available are the Engagement session, attending the Rehearsal and photographing the Reception. At the Reception I do more formal photographs of people and groups as well as exciting images that will make your wedding special. I've used golf carts, golf courses, water features, gazebos, sunsets, moon shots, arches, a great looking washroom, halls, elevators, special effects and anything that you are game for.
Your images are processed and are usually available within 4 weeks, ready when you come back from your Honeymoon.
Investment:
$650/hour, minimum charge 4 hours.
Extra photographers are $100/hr.
Assistants are $75/hour.
Personally:
I don't do photo-booths, cheesy stuff, "shoot and scoot", "14fps and pray for a good image" or like really large tour buses.
I like the challenge of making everyone look great, even if you don't think you do.
I may write straight forward and sound stuffy, but I'm really a softy inside and humourous.
You will like your images and will be proud to show them around.
If you are still interested, please fill out the Wedding Inquiry page to help me provide a quote for you.