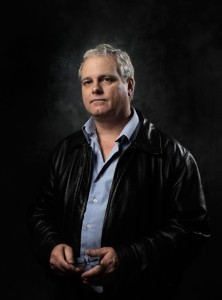 About Rick
I have gone the route of the cliché, self taught at an early age, had my own darkrooms, took many classes and exposed a lot of film to enhance my skills and learning. Most people whom I have done work for appreciate the results, some still carry my images of them from a few years back and show them off.
The picture here was taken by one of my interns that I was teaching when I had my studio.
I'm a mature photographer, older and wiser, know a few tricks and have seen almost every part of the human body (although some parts I don't want to see) as well as just about every shape, colour, size and age.
My job is to make you look good, period. I photograph a lot of people who have the mistaken idea that they cannot look good in photographs and view that as a challenge. If your photographs up to now have been uninspired, hidden away or not on your wall or in an album, you just haven't met me yet.
I like to work with you, and view a consultation before our session as a necessary part of the process where we discuss different ideas and techniques to get just the right look and emotion. I am open to suggestions from you during a session and sometimes where we start is not where we end up. But that's okay, it usually means the chemistry is flowing and you will be getting great images. Of course, if you are really uninspired, you can just hand yourself over to me, say anything goes and see what happens.
Why 3 Oaks Photography?
People ask me all the time as to why I chose this name and not use my own. The answer is very simple. Typically, 99% of the people I come in contact with do not know how to spell my last name correctly, even off a business card. The 1% that can are family. Mind you, there are a few who do spell Three Oaks and not use the number, but that is a story for another day.
I actually have an oak tree growing in my backyard, grown from an acorn I planted, that has three trunks. Apparently this is a rare occurrence where one acorn produces three seeds in the same nut, so apparently this is special.
Oaks are a hardwood and are known for their strength, finish and endurance. Their wood has been used in everything from building ships, musical instruments, fine floors, massive doors and in building the barrels that age fine Brandy, Bourbons and wines. Oak lasts a long time.
Similarly, I like to believe that the images I create will last a long time for you; that you will be happy to see them on your wall or in an album and will be showing them off and remembering when you had taken them for a long time to come. Eventually, I hope your descendants will look back on these same images to see where they came from.
My Work
I use professional cameras and lenses and have no fear of creating images using professional flash, natural light or both. You can see the many examples of my images using different lighting techniques in my galleries and on these pages, but they all display one element, a true emotion. I work to portray a sense of depth in the image from a photographic perspective and try to instill a sense of the subject, rather than just a static, canned pose.
I used to have a studio but now I prefer sessions with subjects in their natural surroundings at home, otherwise known as environmental sessions. I also do sessions in hotels, on site at businesses and in rented studios.
Depending on how I envision the end product, I either personally print your image or I use professional photography labs that are not available to the general public for special prints and albums. I also know how to do framing and use trade only frame companies for simple framing, otherwise I am able to offer discounts from professional framers for more complicated work.
If you are perhaps interested in what I do that is not people related, visit RichardKoroll.ca if you would like to see examples of my art works.
If you have any questions, feel free fill out the general interest form,  send an email, or call 416  709  3724 and I'll be happy to answer any questions you may have.