I did these images with a pair of instructors in a dance studio using my full studio gear; a backdrop and studio lighting. The first session I had with them was in a dance studio with the studio as a background; these images are from a second set where I set up a background in the dance studio and we did the photography against that.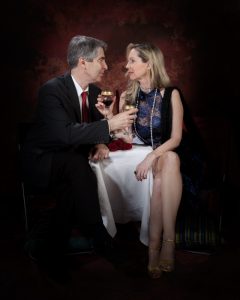 This was staged as two lovers combing together, sharing drinks and was suggested by the couple.
As this was the second session we did, we all had some ideas to explore around a Tango. We also had several examples of dance moves we wanted to recreate which we gathered from Pinterest, Facebook and Instagram. That is one of the reason why I like to have a consultation before a session even begins. Without the background pictures, we would probably have missed many opportunities.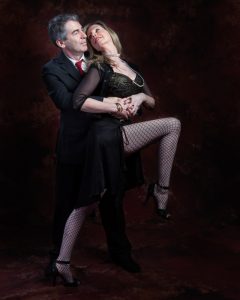 One of my personal favourites, this is on the welcome screen. We did several takes for this, checking to see if everything was correct before moving on. One take-away from this is that if the netting in the stockings are too large, they may catch in the suit button. This is from experience.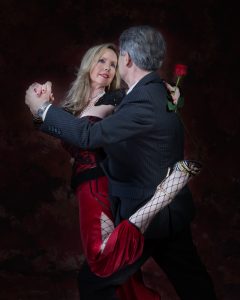 You have to be quick to capture the action. This leg move is only for a very short time and we did it in three takes.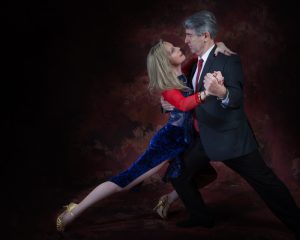 If you noticed we had several costume changes during this session, each one for a different piece and mood.
I used a heavy vignette in these images as I wanted the couple to stand out from the background and partly because I saw these as paintings as well. When I create a photograph I keep the client in mind as you can see from other examples of my work which do not have the same finish.
Feel free to contact me if you would like information about getting some images of yourself.