I created a whole fairie watering hole for this story and here is a behind the scenes image of the set. I have a neutral background that looks great for a night-time scene. For the props, I built the mushrooms and rocks from Styrofoam and hand-painted them. I put a plastic mirror on the floor to simulate a water pool. Around the edges of the pool I have put a collection of flat "rocks" and overlaid those with plastic vines and flowers. In the background I have draped some ivy. There are two dresses, one large and one small for the fairies to wear.
This particular set was set up in a basement for a session and the view was blocked by a set of stairs leading down. When the girls came around the corner they saw the stage for the first time there were smiles and amazement all around.
We worked quickly as the time span for little fairies can be limited and got many great images as I instructed them where to stand, look and imagine where they were.
After the session I showed some of the parents a preview of the vision I was creating and they couldn't wait to see more.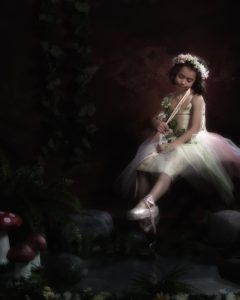 Why is she looking at her shoe? It is not really hers but a ballet slipper belonging to her Mom that she wanted to wear during the session. I had her sit down and then look at the shoe from several angles.
The girl didn't want to wear the wings any longer, so we took them off. Who says fairies have to have wings anyways?
I hand finished the image to give it an evening/nighttime look.
The colouring of this image is slightly darker as I printed this as a canvas and wanted an "old world" painterly look.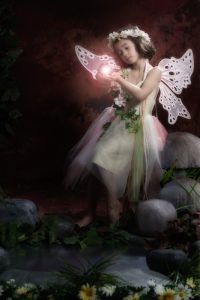 In this other image I Photoshopped out a chair and replaced it with a pair of mushrooms, then added a fairie light in a globe.
I like the look of the darker background and the lighting on the face that makes the image stand out.
I print these using my professional series Epson Printer on a matte finish paper which makes them look really good.
What also works well is editing the image in painting software and then printing it on canvas where they look like painted images. You can frame these in a classic frame to make them look wonderful.
I hope you have enjoyed these background details about how I work with the subjects to create these great looking images. If you would like to see the video of the session, go here, or if you would like more information or to sign up, feel free to fill out the fairy contact form or give me a call.