My Fairy Set is made up of hand-built mushrooms and rocks that I created, a reflecting pool, plastic ferns and ivy that creates a magical atmosphere where Fairies would like to gather. There are also two costumes available and pair of wings to complete the transformation or you can bring your own.
Before and After Effects
I transform the set into an ethereal looking night-time image to give that hint of wistfulness to each image. Or you can go for the original look.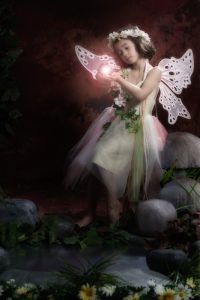 Sprinkle in a bit of Fairy dust and your image now becomes closer to a work of art than a regular photograph.
I touch up each purchased image with special effects and in some cases add items that were not there, as well as doing skin and blemish removal. Additionally, I'll adjust clothing and lighting to get just the right look.
Sessions typically last from 30 to 60 minutes or until the subject gets board or cranky. You will usually get several different looks to choose from when we meet again for the purchase session so your young one does not have to wait around afterwards.
To book a session, please fill out the Fairy Inquiry so I can get a better idea of your requirements and I will contact you.